Get a FREE goodband.com CD!
WE HAVE NO MOVE CDS!
INSTEAD DOWNLOAD OUR ALBUM!!!!
DOWNLOAD ALL THE SONGS AT NOISETRADE


We've gotten over 12,000 requests for free CD's! While we are nowhere near that rich we've sent out quite a few. For just $5 We'll put you on the top of the list and make sure you get a CD right away. (US residents only)
Be the first in your state to have the goodband.com CD! Oh yeah, we'll make it easy to impress your friends with your original taste in music! Pay with Paypal on the upper right "Make a Donation" button.
Otherwise, get on the REALLY free list below. But be Patient!

Sorry for this ugly new form, but were were getting WAY too much spam from BOTS on the old form! The image verification isn't case sensitive though so it isn't that tough. As always thanks for your support!
HEY, NEW SONGS AVAILABLE GO GET THEM AND LET US KNOW WHAT YOU THINK!!!!


Don't stare at this
for too long!
(Actual CD does not flash unless you look at the shiny side and move it about.)


Check out this
Stock Market Game. Invest in real stocks and compete for a
$50 prize!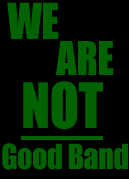 Don't forget you can always download our
songs for free too!
Ya gotta love free MP3's!
Coming in iTunes format soon!